Small solutions provided They have caught my attention, I think if they do not go over $ 50 and solve what a great program does not do, they should get lucky.
Today I want to show you KML Manager, A tool that barely walks 12.95 Euros, weighs less than 1 MB but see nothing else inside this geofumada.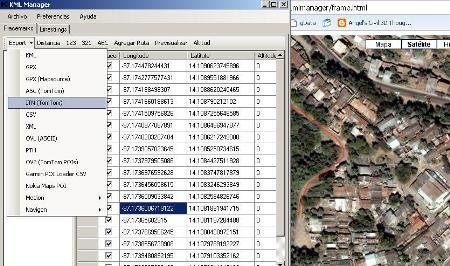 Read and edit data
The best thing that KML Manager does is read many formats, edit them and export them to others.
It is not wrong to read data such as Open Street Maps, GPX, Garmin Way Points and Points of Interest or Tom Tom Itineraries. But apart from reading, you can also edit several of them, even combine data that are in separate files.
You have to prove it to convince yourself, because in the case of having a kml, whose coordinates are geographical, when exporting it to cvs you can choose to send them to UTM and he only identifies the corresponding zone.
When exporting to GPX you can choose if the data goes to Waypoints, Route or Tracks. You can also go to GPX Mapsource, .lmx from Nokia Maps and formats .rte from Navigon and .xml / .trk from Medion.
Deploy to Google Maps
A very attractive picket, is that any data you have can display it in Google Maps, so it is easy to take data from a Garmin and pick them up in a Google Maps window without transforming them. Or something more extreme: read data from Open Street Maps, and then display them on Google Maps (the vectors, of course)
Here is the table that speaks for itself.
Formats you read
Formats you edit or export

KML 2.1
KML 2.0
KMZ
GPX 1.1
CSV
OVL ASCII
ASC (TomTom)
ITN (TomTom)
Openstreetmap OSM
NMEA (GPS data)
Geocaching
PTH MagicMaps
TK Kompass
PLT OziExplorer Tracks
BCR Motorrad Routenplaner Map & Guide
WPT PCX5 Garmin Waypoints
. MapGuide bcr

KML 2.1
GPX 1.1
CSV
OVL ASCII
ASC (TomTom)
ITN (TomTom)
OV2 (TomTom)
XML
PTH MagicMaps
Garmin POI Loader CSV
Nokia Maps POIs
Navigon
Medion
For the next version, they are considering exporting data to different formats simultaneously. The trial version is fully functional by 14 days.
They can go down KML Manager here