A few days ago a reader asked me about the Basic User Guide of the MobileMapper 100. Usually these manuals come in the disk that accompanies the equipment bought in Ashtech, also in German, French and English with the names:
XM100 & 200Platform_GSG_B_en.pdf

XM100 & 200Platform_GSG_B_de.pdf

XM100 & 200Platform_GSG_B_fr.pdf

XM100 & 200Platform_GSG_B_en.pdf
But for some mistake of someone who should have already fired, all manuals that come on this disc called "Getting Started Guide" are a copy of the English version, although they have the respective name. After going around (many) there I found it and for this reason I am uploading the file for download.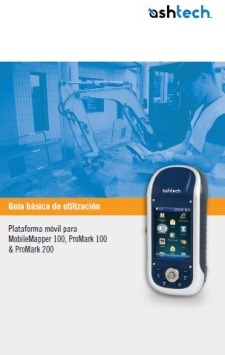 This manual is the same for both the MobileMapper 100, Which is the same for the Promark 100 and Promark 200, as the equipment is the same, only changes the configuration of software and accessories.
Here is the index of the document.
First use
Unpacking
Inserting the battery into the receiver
Charge the battery for the first time
Turn on the receiver
Adjusting the backlight level
Adjustment of the backlight inactivity time
Energy management
Regional configuration
Lock the screen and keyboard
How to hold the receiver
Switch to sleep mode
Turn off the receiver
System Description
Front view of the receiver
Visual display
Keyboard, scroll buttons and Enter
Pencil and pen holder
Integrated GNSS antenna
Microphone
Integrated GSM antenna
Built-in Bluetooth antenna
Rear receiver face
Camera lens
Speaker
Battery compartment
Side view of the receiver (left)
Power button
Power LED and battery
SDIO interface
External antenna input:
Bottom View of Receiver
Power / data connector
Docking Station
Top view
Rear view
Advanced functions
Types of food
LED Indicator
Internal battery
Battery Charging Scenarios
Port assignment table
Inserting a SIM card
Use of the internal modem
Activating the phone function
Establishing a GPRS connection
Establishing a GSM connection in CSD mode
CDMA connection through an external mobile phone
Editing the default dial string
Bluetooth pairing between receiver and external mobile phone
Configuring the Internet connection
Using the camera
Take a picture
Rename an image
Rotate an image
Crop an image
Autocorrect an image
Delete an image
Change image settings
Record a video
Define the length of a video movie
Start a video
Finish a video
Play a video
Rename a video
Delete a video
Voice settings
GNSS Toolbox
Options
GNSS configuration
Differential mode
NMEA Output
GNSS status
Restart
Problem solving
About me
Turn off GNSS
Platform specifications
GNSS specifications
Processor
Operating System
Communication
Physical characteristics
User interface
Memory
Environmental characteristics
Power Requirements
Multimedia and sensors
Standard Accessories