Not long ago we talked about the AutoCAD 2008 enhancements and AutoDesk has already released some of the improvements that the 2009 version known as AutoCAD Raptor will have ... although after knowing its history In 25 years We know that this is not a year of change beyond makeup.
1 Regarding Operation with other systems
With Windows Vista
AutoCAD 2009 ensures to be certified to work with Windows Vista (that is, the box has the logo compatible with ...)
And who has certified to Windows Vista to work regularly well? ... and incidentally we began to despair as to how much resources you expect the team to have, if the click Windows Vista without dual core is destroyed. It only works in Windows XP Home Edition and onwards.
With Microstation
It can not read a DGN file, just import it, there is not much improvement with respect to AutoCAD 2008, only that the handling of layer properties is more friendly if they are files that come from a DGN ... ah, and it can be V7 or V8. We will see if one day does what its competition (Microstation), which adopted its dwg format as a native.
2 Changes in the interface.
The interface now closely resembles Office 2007, a strategy questionable by some but that in the criteria of usability comes well to try to maintain a similarity with the environments of popular use ... as long as it is not carried away by exaggerated changes in the interface of user.
Although it's just a make-up, there are some good things about it:
Ribbon-shaped toolbars
This is one of the best changes, in that the organization of commands passes from the obsolete bars to a joint panel that stores the icons and that can be easily customized. Of course it will cost us at the beginning for which we already had a way of grouping the Most used commands.
Now they are in a horizontal panel, always grouped in commands of creation (draw), editing (modify), dimensioning (dimmensions) ... although now also come the layers (layers) and those other panels that were called only when they were required but that influenced in the loss of time like someone who draws drawers from the drawing table every time the eraser occupies it. Also now, as in Office, they are prioritized in order of use semiautomatically.
The value of this is recognized by the users of Microstation, who love that logic of not having to be opening pop-up panels for layer control or selection of these in the cloud ... to give an example.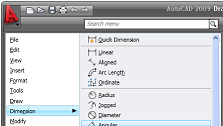 Other changes to the interface include a «Browser menu«, Which displays a side window with the ability to explore files, commands, and other resources… we'll see if it becomes so useful.
Quick access toolbar, With this what they did is look for where to place the general commands (new, save, print, copy, paste ...)
Infocenter, mmm, mmm, only the help, with an integrated search engine and the possibility of placing markers although in practice few users of Autocad use the help because it has never been so friendly.
Statusbar, this is the tags of ortho, grid, osnap, lwt that are now placed in a lower bar to hinder less ... it is interesting that there are some important accesses to parameters in use of styles, units and things that were previously only activated by means of from the command line.
3. Changes in command operation
AutoCAD 2009 seeks to solve the problem of the draftsman in his table, where to place so many tools and in a certain way has achieved some valuable aspects, among them:
Properties bar goes to Quick properties
It was always very useful but annoying in the space it covered, now when you move the cursor over the objects or apply a command it is activated. Hopefully and not be a distractor that makes us lose working memory, input looks good; We will see if you can win the battle to the contextual menus of your competition.
Other things become «Quick»
That of switching between the workspace and the views (views and layouts) now comes with other ways of invoking them in the good night prayer style (the lower labels or the top menu). The same is to get used to it because they have put it on the keyboard with ctrl + tab, on the right mouse button or on some icons in the status bar.

Even "named views" can have deployment properties (only three) and PowerPoint style transitions (show / shot view motion).
Search to save repetitive processes
This has cost AutoCAD a lot, since the commands are very linear and little has evolved things like: offset command, enter, offset distance, enter, offset direction, end of the command ... if you want to do the 5 steps again . This bad usability caused us to become experts with the keyboard shortcuts, the right hand with the mouse and the left to chop letters or the inevitable «esc» key.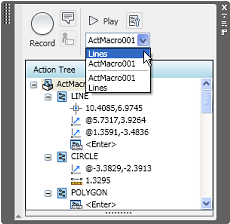 In this case, AutoCAD 2009 looks for something called «Action recorder», similar to saving macros, it is possible that to make us forget the keyboard and text commands ... I honestly think it will cost a lot because we get used to it and even liked it. I would bet on AutoCAD looking for the idea of ​​"the command always active" and context menu, only then we could forget the keyboard.
However I recognize that these changes will be good for the new generations, and for them a functionality called «Tooltip» that if you place the mouse on a line it says «You have put your pointer on an object called line, the help can explain how to make a line, also on the Internet you can find how to make a line, and do not forget to look in our blog 25,456 ways to make a line"… Useful? maybe but I don't think it will last long unless they give it better functionality.
4. Improved commands ... few
Mtext. Now you can do spell checking while writing, we understand that Spanish is included.
Search and Replace. Now a search generates a list that can perform direct approaches and replace ... not just texts.
Lighting and 3D. Although they add a slight advantage to VSLIGHTINGQUALITY, little is gained with that, because for 3D modeling many people use other applications of AutoDesk ... however there are some They work wonders. They implement the ViewCube, Which is a controlled management of objects in three dimensions, seems to help to do some basic tasks or at least facilitates selection and SteeringWheels Allows you to fly over an 3D space or create scrolling sequences.
Georeferencing. Of the best that this version brings, although we do not get very excited; it is not projection management, this is done by AutoCAD Map3D, but at least AutoCAD 2009 has added the option to handle latitude / longitude coordinates and the possibility of creating meshes of that geographical location. Although you could not create a grid in both UTM As well as geographic coordinates.
More, there is no more for now, that is what Heidi commented, A lady who looks like an excellent housewife but who imparts magnificent conferences at annual events ... with more machine-readable English than the Spanish understanding ... and with a figure that leaves us pensive as it would have been when she took her first classes of AutoCAD in 1986 .
We expected improvements in integration With Google Earth, It is expected that in the rest of the year we will continue to count more, usually for the month of April AutoDesk launches its products. Currently AutoCAD 2009 Raptor is a beta version, and can be downloaded if you are registered as a beta tester.
You can see a video of some improvements in the blog of Donnie Gladfelter
You can also see the opinions of users in Todo Arquitectura regarding how it will be AutoCAD 2009