Others
ArcGIS 10 course - from scratch
You like GIS, so here you can learn ArcGIS 10 from scratch and get a certificate.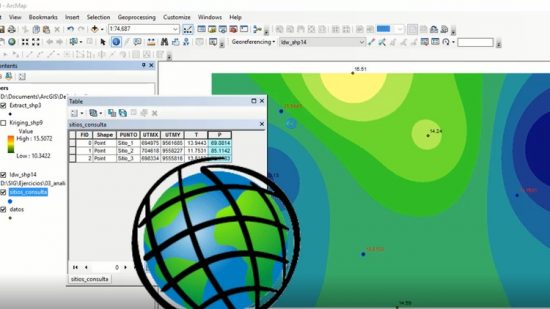 This course is 100% prepared by the creator of "Franz's blog", if you have visited that page you will know that if you are going to learn, if not, do it before starting.
Includes exercises and book: Fundamentals of GIS.
While most of it is practical, step by step. It also combines a theoretical part that allows students to base their knowledge on GIS, because it is not intended to impart mechanized learning, but comprehensive.
What will you learn
ArcGIS 10 from zero to intermediate level.
Understand basic concepts of GIS.
Georeference images.
Create and manage shapefiles.
Use geoprocessing tools.
Calculation of geometries (area, perimeter, length, etc.).
Management and administration of tables.
Develop skills in spatial analysis.
Know the main tools of Spatial Analyst.
Apply different types of symbology.
Know the interpolation and its applications.
Design maps ready for printing.
Course Prerequisites
Basic notions of cartography and geodesy.
Book: Fundamentals of GIS (included).
Exercises: Fundamentals of GIS (included).
ArcGIS 10 (in English) installed on your computer (Required before enrolling).
Who is the course for?
GIS world lovers.
Professionals in forestry, environmental, civil, geography, geology, architecture, urban planning, tourism, agriculture, biology and all those involved in Earth Sciences.
People who want to know the potential of ArcGIS.
Users of "The blog of franz".