Supermap GIS is a GIS service provider, with a long time in the market with a history from its beginnings in a wide range of solutions in the geospatial context. It was established in the 1997 year, by a group of experts and researchers with the support of the Chinese Academy of Sciences, its base of operations is located in Beijing -China, and it can be said that its growth has been progressive in Asia, but since 2015 has had an interesting stage of expansion thanks to its innovation in multi-platform GIS technology, GIS in the cloud, next-generation GIS 3D, and GIS client.
At his stand at the FIG week in Hanoi, we had time to discuss various things that this software does, unknown to much of the Western context. After several interactions, I decided to write an article about what most impressed me about Supermap GIS.
SuperMap GIS, is composed of a series of key technologies -platforms- which includes geospatial data management and processing tools. From 2017, users have been able to enjoy its update, Supermap GIS 8C, however, this 2019 was released to the public SuperMap 9D, which is composed of four technology systems: GIS in the cloud, integrated multiplatform GIS, 3D GIS and BigData CHALK.
To better understand why it is considered an integral solution, you must know how your products are composed, that is, what each of them offers.
Multiplatform GIS
The multiplatform GIS is constituted by: the iDesktop, the GIS Component, and GIS Mobile. The first of the aforementioned iDesktop, is developed based on plug-ins -accessories-, it is compatible with various CPUs, such as ARM, IBM Power or x86, and works efficiently in any operating environment that has been installed, whether Windows, Linux and integrates 2D and 3D functionalities.
Any type of user, individual, business or government can use this desktop application, since it is very easy to use and is designed in the style of Microsoft Office applications. In this application, you will find all the tools that can be commonly seen in any desktop GIS for loading and displaying data, building entities, or analysis processes, to which access to web map services is added, promoting collaboration among users. Within its operational characteristics include: management and visualization of photogrammetric images, BIM, and point clouds.
In the case of GISMobile, you can work in iOS or Android environments, and can be used offline for both 2D and 3D data. The applications that Supermap Mobile offers (SuperMap Flex Mobile and Supermap iMobile), include field surveys, precise agriculture, intelligent transport or inspection of facilities, some of these can be customized by the user.
GIS in the cloud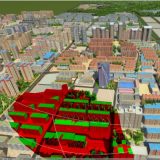 One of the inevitable and irreversible trends for the management of geospatial data. It is a platform connected to multiple GIS terminals so that the user / client can build products in an efficient and stable manner. It is made up of the SuperMap iServer, SuperMap iManager and SuperMap iPortal, which are detailed below.
iServer SuperMap: which is a high performance platform, with which you can perform activities such as administration and grouping of the 2D and 3D services, as well as providing the resources to develop extensions. With the iServer SuperMap, you can access services of data catalogs, real-time data visualization or construction of Big Data applications.
SuperMap iPortal: integrated portal for the administration of shared GIS resources - search and upload-, service registration, multi-source access control, technology addition for the creation of web maps.
Supermap iExpress: It is built to improve the user's access experiences to the terminals, through proxy services and cache acceleration technologies. With iExpress it is possible to build a low cost, multi-platform WebGIS application system. In addition, it allows the rapid publication of products, such as 2D and 3D mosaics.
SuperMap iManager: used for the management and maintenance of services, applications and large volumes of data. It supports the Docker solution - container technology - to achieve the efficient establishment of GIS in the cloud, and the creation of Big Data, this allows high performance and low consumption of resources. It adapts to multiple platforms in the cloud, and generates enriched monitoring indicators.
SuperMap iDataInsight: allows the access of geospatial data, from the computer - local - and on the web, ensures that the user can have a dynamic visualization of the data, for its later extraction. It has the support for loading data in spreadsheets, web services in the cloud, rich graphics.
SuperMap Online: This product does something that for many is convenient, the rental and hosting of GIS data online. The SuperMap Online, provides the user with a GIS hosting in the cloud so that he can build public GIS servers, where he can host, build and share spatial data. SuperMap Online, resembles what ArcGIS Online offers, there converge features such as: analysis processes (buffers, interpolations, information extraction, coordinate conversion or calculation of routes and navigation), 3D data upload, publication and ways to share online data, variety of SDK for clients, access to thematic data.
GIS 3D
SuperMap products have integrated data management 2D and 3D, with its functionalities and tools is possible: BIM modeling, management of oblique photogrammetric data, modeling of data from laser scanners (point clouds), use of vector elements or 2D raster to which height and texture data are added to create 3D objects.
SuperMap, has made efforts for the standardization of 3D data, with this is possible in the unification and addition of technologies such as: virtual reality (VR), WebGL, augmented reality (AR), and 3D printing. Supports vector data (point, polygon, line), as well as text entities (CAD annotations), directly reads REVIT and Bentley data, digital elevation models, and GRID data; with which you can generate construction data of textured meshes, operations with voxel rasters, supports for dimensionality calculations or addition of effects on objects.
Some of the applications in the 3D SuperMap environment are:
Application of planning simulations: builds a planning scheme through the realization of a dynamic filtering of heights and natural lighting of the elements of real space.
Spatial planning design: according to the area and characteristics of the 3D model, the system constructs elements such as roads.
3D consultation: there is the possibility of monitoring natural resources and real estate, to determine their location and generate protection plans.
BIG DATA GIS
Through SuperMap technologies, visualization, storage, data processing, spatial analysis and real-time data transmission can be performed, this being an innovation in the field of GIS + Big Data. It provides the SuperMap iObjects for Spark, a GIS component development platform, which provides the user with the GIS capabilities needed to handle Big Data. On the other hand, it can be mentioned that it provides high-performance dynamic representation technology through support for modifications of map styles, updates and representations in real time, open source libraries and spatial big data visualization technologies are also offered (scatter diagrams, thermograms, grid maps, or trajectory maps.
The functionalities mentioned above are used to improve the understanding of the environment, which translates into the development and decision making on topics such as: Smart City, Public Services, Urban Management and Natural Resources. The case studies were visualized, where they used the use of SuperMap and its technologies, among which can be mentioned: The urban management system of the Chogwen District - Beijing, The geographical spatial framework of the digital city based on the cloud , Geoportal of disasters of Japan, Information system for large-scale railway installations in Japan based on SuperMap and Platform for predicting droughts.
If we take one of the above-mentioned, for example: Information system for large-scale railway facilities in Japan based on SuperMap, it must be specified that SuperMap Gis, manages all railway facilities in Japan, so the volume of data is very extensive and heavy, in addition to requiring a platform that meets the expected quality and connectivity requirements.
SuperMap implemented an Internet and Intranet service, plus a data management model with SuperMap Objects, with which spatial information queries, statistical update, spatial update (label and entity placement), map copy, analysis of buffers, design and printing; all this through a specific information viewer - built in SuperMap -, only for the data generated by this company, which met the expectations of the JR East Japan group that manages the rail system.
It is interesting of this solution, the ease of its use, a complete and varied product line, the integration of its products, the stable execution of its functionalities and well taken advantage of it can be a good alternative for companies focused on results. The products they offer are not only destined for geographers or geomatics, but they have also been taken to governmental and business instances, who, through the use of it, can make decisions adjusted to the spatial realities.