– We should have a blog ...
Said my boss (HM), with his gaze disconnected from this world. I felt sorry for not knowing the word that a man of 73 years had mentioned before my stubborn complaint of why I disconnected the Internet to the municipalities that were doing cadastral maintenance. More than he said it with his natural way of describing a scene 25 years ahead and why he always seemed to be enthroned with an astral version of reality.
My encounter with the word Blog.
That was my first encounter with the word blog in September of 2005 although it took several years to be chewed in the world of digital writers style blog.
Then I went to work in Guatemala and there I went back to the subject. By that time Blogger was a little less than depressing version, with a few templates in shrill tones. I had a hard time understanding its functionalities simply because they were few, with a couple of nights I was driven by the initial idea of ​​writing about CAD / CAM technologies in the unique exorcist style I knew.
But the stress of not having enough arguments and no idea how many people might be interested in reading, I stopped the subject after four tedious articles and started a blog obedient to the melancholy of leaving the country with the almost firm decision not to return in a long time. So I took my agenda and sketched 25 titles of possible short stories that could accompany my nostalgia on those lonely nights. I started writing in the kitchen with a German who could barely say Thank you when I served him a glass of smoothie that I prepared myself with fresh marañones from the trees of that house that the company had contracted for foreign engineers. Then he tried a conversation in English but that dry Scandinavian barely said Thanks and was gobbled up again on his laptop.
It was simple to write the stories, only had to do what the fifth grade composition teacher asked, with some literary touch of my writing class my first year of college. Everything flowed so fast that I wrote almost a story on a daily basis, in my opinion the best thing that I had produced, although years later I saw a professional editor working, I understood that the style is complicated, so much so that it can make us lose natural inspiration. Perhaps it was good not to know because my stories came as a runoff to the small circle of friends who enjoyed them and especially to the coterráneos of that boarding school where I spent a few years of my adolescence that ruminated them over, again and again with the later arrival of networks social.
When I came to the 25 articles I published it in print and I released it to not write anymore unless it was a special request. Sometimes I recycled them here.
My first encounter with WordPress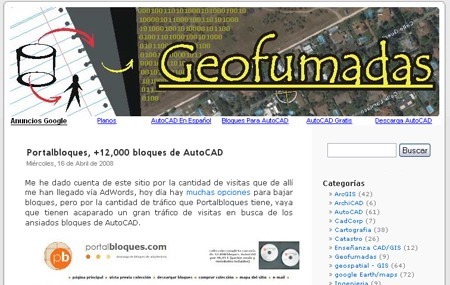 I was always afraid of WordPress, it was hard for me to go through the wp-config.php edition and then I did not know where to walk. With help from a Mexican friend, I managed to install it and made my first steps with a hybrid version of technological innovations and web blogging. I wrote times for myself, times for others in Serturista y Blogging... until Francisco noticed that he wrote more for me and almost threw me out.
It was an interesting stage of my life, there I lost the fear of the css style, to overturn the .httaccess, to simple tasks of php and other acronyms that arrived in a couple of months: header, sidebar, footer, metatag, cms, xmlrpc , Css, atom ... a whole list is never finished.
Eventually I talked about Google Earth, some web mapping applications, but it was very hard for me to write for an audience like the ones I had admired for years: Cartesia that existed from 2001 and GabrielOrtiz 2003 since.
One day from 2007 Tomás, the creator of Cartesia announced that he had set up Cartesians on WordPress MU, and everyone who wanted to have a blog on geomatics was welcome. By then I had returned to my borrowed country and started a project that involved the conception of a multi-purpose cadastre under the approach of pooled municipalities.
Geofumadas.cartesianos.com
Choosing Geofumadas as a name was easy. One of my mentors (JJ) called me from time to time to sit in front of an oval table and while cleaning with a eraser the formica board said:
– Come on, let's smoke a coffee with space flavor.
After doing some scribbles on the board, he sent me with the poem to turn that diagram into a usable routine for the cadastral process. I ended up calling that inspiring moment «Geofumar»And when I started installing the site that was the name.
I must be honest that by then I did not think to become what I am now. The beginnings were quite humble, several took the invitation of Thomas but few tenacity to write with obsessive discipline. So naive was my point that at the beginning the url was galvarezhn.cartesianos.com, like any other first site where the author tries to stand out his name before a brand; although its headline was always Geofumadas. After a while it was necessary to pass it to geofumadas.cartesianos.com.
Being quoted a couple of times in the forums of Cartesia motivated me although I challenged more the criticism of some who praised my good intention but questioned my occasional laxity, innocence of context and little exercised assertiveness. To them I must take more seriously the challenge of writing for a globalized world without forgetting that I have a UTM coordinate, a family, some friends, a girl and a blog.
The time made the statistics grow, WordPress became more friendly, with plugins and themes to which the goodwill of Tomás was impossible to track with Cartesians. I bought the domain geofumadas.com but I refused to leave Cartesianos, more for gratitude to Cartesia than for the 45 quality visitors that brought me the home. However, the opportunity was given when WordPress MU announced to stop its development so as not to duplicate the effort of WP Multi sites, with which I consulted Tomás if Cartesianos would go there.
– If only you and tux are still writing-. He told me.
So I understood that as permission to go to Geofumadas.com.
Tomás and Geofumadas.com
6 years passed so that he could meet Tomás in person. We had spoken long paragraphs but it was always about topics encrypted after OGC standards. But after three trips to Europe, all fruit of the blog, I decided to go through Spain to chew the tablecloth and visit some fans.
It was funny that being the one who talks a lot about maps, I went astray wanting to know how the subway and my iPad worked. The founder of Cartesia.org sat on his neat glass desk, in a light brown coat and well-polished slippers that made him look anything but a surveyor. When he got up, I could see that he was taller than I imagined, his tone of voice did not go with the aggressive moderator of the forums in his firm positions in front of the COITT Although his spirit of good people hunted exactly with the image of of Peter Parker in the episode of the Green Goblin.
A girl accompanied me there, I do not say she guided me because she had half the guilt that led me astray; Today I feel sorry to tell you because we forgot that I was texting at the end of the table until hunger cracked after almost two hours of talking about Pleiades images, orthorectification and the scope of ZatocaConnect. We apologized for the first time and went to the corner for something to eat, we saw it again until we expected the Custard For dessert and this time it was Tomás who apologized.
–Sincerely, how sorry. He said, with more charisma. But we have never talked with this man.
–How not, it shows. She said pulling out her roots in a grimace of Caribbean honesty.
And then we went back to immerse ourselves again in the talk, we talked about my children whose images have grown up in stitched articles of the blog, also of yours until, out of respect for the work, we returned to the Infoterra office. To say goodbye I released a compliment in third apology format for the girl who was beginning to sweat anger in pixels.
-You must know that half of my achievements are due to Thomas.
And he took it away with the fencer's skill.
–And when he was famous and great, he left Cartesian.
The laughter was worth the moment, we hugged each other and then I went to compensate for my grief touring Toledo with the girl who no longer wanted to be a guide after a couple of Brazilian friends joined us.
Conclusion
I must end this article because the 43,000 feet have been finished and we have been asked to turn off the electronic devices, so I will finish as short as possible.
More than moments, they have been people: HM, JJ, Tomás, they have been significant people in this episode that I have just summarized here in short steps. But the route is longer and there are more significant people than through this blog I have known. Some of them collaborate with me, others just read the headlines, others eventually return to see if a spike falls that seems familiar to them and others maintain a permanent contact via Skype, mail or social networks.
Getting to have 110,000 monthly visits cost a lot of effort, almost everything to trial and error. With time the international version arrived (EGeomate.com) with what NG became my psychologist and the social networks that relieved the pressure by important holders. I believe in the democratization of knowledge that others initiated before me; now I appreciate the cordiality with which GabrielOrtiz and Cartesia received me, this and more motivated me to mount Z! Spaces for instead of competing for advertisers, work collaboratively.
I have seen many ideas come and go, some too good to die. WordPress and gvSIG have shown me that the Open source model is as promising as proprietary software and that we will have to fight for it, with it and sometimes against it. Every time a new blog arrives with the name of the author of the header, my hope is that in 6 years another can feel this happy. Because the more we live in this ecosystem, we make the Hispanic context more sustainable than geofuma gml but live the charisma of melancholy, which is inspired by the successes of others and tolerates non-contextual sarcasm.
So cheer up. If one day you started a blog, forum or page, please do so. If you have plans to open a new one, go ahead there is room for everyone.