From year and a half From working from an Acer Aspire One, doing CAD / GIS at the training level, posting, some graphic design and browsing, here I summarize the most important. I had discussed four problems in detail, but now I summarize about four more and analyze whether it makes sense or not to continue insisting.
Main problems and solutions
1. The audio It clings to this I spoke some day, and among the comments we had a whole range of thanks, analysis, puffs and profanity. It seems to be a common problem, but it is solved.
Of course, it is not to listen in high volume; If you want to connect to an external DVD and with a large screen to watch the episodes of Gray's Anathomy It is best to put some external speakers.
2. Problems with Skype, although It seemed to be an antivirus issue, I did not have problems again. Overall for web connectivity, online video, and browsing it's great.
3. The keyboardJust mentioned A problem with a key, but the layout of the 105 keys on these machines is definitely pretty bad. The way they are built, with a fluttering eyelash over an irreverent button, means that anything from the nail of the little finger to hard mucus can creep in and make a key no longer work. It is curious that in support businesses people go more for the keyboard problem than for any other reason, with 300 dollars lowering their brow, the toy under their arm and a slogan against this server that recommended them to them. Solving the key was not easy for me, and I think that other less computerized people would have to resort to support. Oops! Sorry 🙁
4. Do not send to Datashow. That was for To be naughty with msconfig, but the first few times people always have a problem with waiting for the shipping panel to pop up, used to the traditional way of other notebooks. Besides, it can happen that at some point it stops transmitting, not much happens but usually after being connected to the external monitor or projector, having many programs open or something like that, it is a matter of lack of memory to continue transmitting. In that case, there is no other option than to restart, but of course, the button to send to Data is pressed twice to access the laptop screen and turn off programs to restart.
5. The battery does not load. This I have heard a lot, in many cases it seems to find no salvageable reason and it happens when the warranty has expired. It happened to me once, but removing the battery and putting it back in solved it.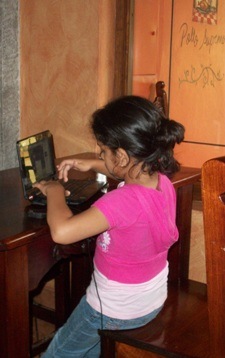 6. The plug It gets damaged. This is serious, the design in the bonding of the cable with the box that acts as a transformer is so bad that it often no longer works. Generally by folding it as if it were nacatamal in the backpack, by a jerk from a child passing by or by running over it with the wheels of the chair.
7. Problems with drivers. This happens only to the innocent, because when they have some instability in Windows they send it to a naughty technician to format it, and in the end he makes it useless telling them that it has no drivers, that it does not have a CD Rom, that it is useless. But it is not necessary to go there, the system at boot has an option with F10 to return to a stable version, and no formatting is necessary.
8. The numbers they cross. This happens when we start it from time to time -More time than when-. It happens that when entering the Internet in the mail access panel, because autocomplete is configured, we select the user and when trying to write the Password of which we only see the asterisks sends us the message that is wrong. We try, ad nauseam and unless we try to write elsewhere, for example google We landed that the number function is activated since the result is g66g3e. For this, just by pressing Fn + F11 we deactivate it, but it should not activate itself.
Although I have known of those who have lost access to their mail for abusing failed attempts and even have quarreled with the cousin geek Believing them Cracked el Password.
Needless to say, for the health of the eyes, this is not a team to work long hours, because the eyes are overworked. It is recommended for travel, and at home to connect to a larger monitor. Also, just the area where the wrists are placed is a part of the laptop that heats up, which can affect whether after several hours of working you are going to wash yourself with cold water or grab an ice-cold soda ... let's not be fatalistic, but if you do. Repeat a long time is like washing your hands after ironing clothes.
And what?
Honestly, to be such a team wretched, Having 8 so serious problems makes one think whether it is worth buying one or better to return to a notebook like this Lapiztop or a PDA. But here are my recommendations from the positive point of view after a year and a half and I'm still happy with the toy… despite having two creatures that use it for an hour a day just to be taking care of their farmville and seeing the next day's homework.
1. It is a personal tool.
By this I mean, it is for personal use.
Do not give her or your girlfriend who will only use it to watch videos from Youtube, or your friend who takes the snot and leaves them there, or your boss who only learned to roll cables like ponies, not much Less your son who will give hard to the keyboard playing Mengaman X8.
It is for personal use, if you take care, if you have a stable antivirus, if you are not getting things pirated, it works.
2. It is a notebook, not an anvil.
The concept of Netbook is a computer that replaces a notebook, which frees you from walking that heavy Toshiba In the back, that one day will cost you a lumbar injury or that you will be robbed in the street because no more way to carry it than in a laptop bag.
So don't expect to do wonders it isn't made for. Even with everything, I have managed to mount Corel Draw to do pirouettes, Microstation to work maps, AutoDesk Civil3D 2008 for posting exercises and it works. Even ArcGIS 9.3 works fine for "Of notebook", That is, to see, edit, print, learn. Not to work seriously because the monitor size will cost you half a retina over time.
If you want to work seriously, then buy a 23 flat monitor ", those that are now cheap and you can work quietly in the office, or on the nights you drink it says there is Sock.
3. It's only worth $ 300.
It would be the last straw if we wanted something more for just $ 300 that it costs. If you have complaints, they are valid for Acer to strive to improve this product in a couple of years.
But if you want wonders, buy yourself a real kit. This is a toy that does more than you would with a PDA, much more than you would with an I-pad, and surely a lot more than with a twenty-dollar notebook.